Books and Audio
This page contains audio lectures and books that I have available for purchase. I also have some longer lectures available as part of my online courses on astrology, as well as some free lectures available through my podcast on astrology.
Books
Hellenistic Astrology: The Study of Fate and Fortune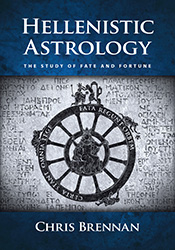 The product of more than a decade of research, Hellenistic Astrology: The Study of Fate and Fortune is a comprehensive textbook on the tradition of horoscopic astrology that was practiced in the Mediterranean region during the Hellenistic and Roman periods.
The book covers the history, philosophy, and techniques of ancient astrology, with a special focus on demonstrating how many of the fundamental concepts underlying the practice of western astrology originated during the Hellenistic period.
Available for purchase now: Hellenistic Astrology: The Study of Fate and Fortune.

2018 Astrology Calendar Wall Posters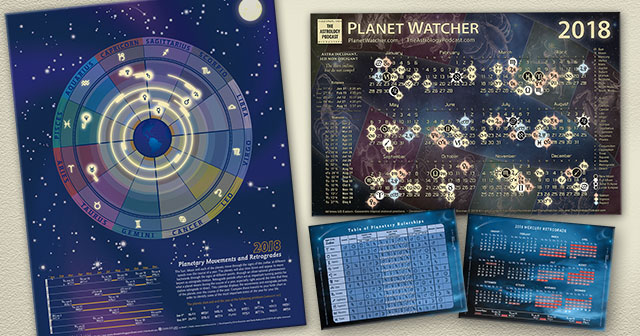 .
Audio Lectures
In this 100-minute lecture I discuss how recent efforts to translate ancient Greek and Latin astrological texts have resulted in the recovery of dozens of important techniques and concepts, which have the potential to enhance and improve the practice of astrology today.
This talk will provide an introduction to ancient astrology, and demonstrate that by looking into the past, we can create a better astrology for the future.
In this 70-minute lecture I present a simple but effective method for interpreting what it means when the ruler of one house is in another house in a birth chart. For example, what does it mean when the ruler of the 11th house is in the 9th house, or when the ruler of the 7th is in the 10th?
In the second half of the lecture I demonstrate how to determine when these placements will become activated in specific years in a person's life by using a timing technique called annual profections.
An 81-minute lecture on how to time peaks and transitions in your career and life direction using the Hellenistic time-lord technique called zodiacal releasing.
Focuses in particular on the charts of politicians and celebrities, and identifying periods of eminence.
A 2.5-hour workshop on how to use the zodiacal releasing time-lord technique to time peaks and transitions in a person's love life and relationships.
Demonstrates how zodiacal releasing can be modified to study relationships by starting from the Lot of Eros, and the specific calculation preserved in the work of the 4th century astrologer Paulus of Alexandria.
Electional astrology is a branch of western astrology that is used in order to select auspicious times to begin new ventures and  undertakings.
In this 75-minute lecture Chris provides an overview of the general principles of electional astrology, and outlines some traditional and modern considerations that are used to identify auspicious charts.
Everyone knows that astrology has a long and venerable history, but few astrologers know the full details about where astrology originated and how it came to be what it is today.
The goal of this lecture is to take the entire 4,000 year history of astrology and condense it down into a series of episodes and bullet points, in order to give you a bird's-eye view of the major traditions that make up western astrology.
A 90-minute lecture that provides a detailed guide to what you need to do in order to set up a successful astrological practice in the 21st century.
This lecture covers topics such as setting up a website, blogging, using social media, promoting yourself, speaking at conferences, what to charge, as well as other topics related to professional development.
A 2-hour lecture that provides an 9-step approach on how to use some of the basic principles and techniques of western astrology in order to correctly determine what time a person was born, when the birth time is either unknown or uncertain.
This approach integrates some traditional and modern techniques in order to provide a simple but effective approach to birth chart rectification.

Conference Recordings
In September 2011 the American Federation of Astrologers hosted a two day conference titled Traditional Astrology in the 21st Century, In Honor of James Holden. The conference consisted of talks on Hellenistic and Medieval astrology by Demetra George, Benjamin Dykes and Chris Brennan.
The conference recording features over 13 hours of audio, along with diagrams, handouts, and other material.
For more information about the recording, or to order it, please click here to visit the Traditional Astrology in the 21st Century order page.