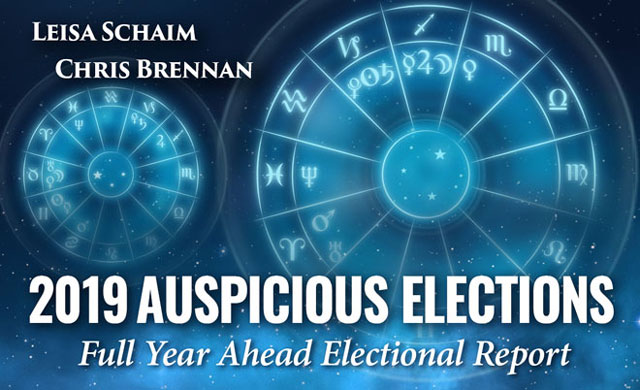 In the 2019 Electional Astrology Report, astrologers Chris Brennan and Leisa Schaim provide the 12 best electional charts they can find over the next 12 months, using the principles of electional astrology.
These are timed charts that are each set for a specific date and time window in 2019, to be used for launching ventures and undertakings that are important to you, and to increase the chances of success in whatever you would like to begin next year. If you are new to elections, this is the proactive use of astrology in order to give the most positive possible foundation for new things you are starting, creating what is basically a 'birth chart' for event or project.
Chris and Leisa are the hosts of the Auspicious Elections Podcast, where each month they highlight the four best charts they can find for the coming month. Listeners of that podcast often ask about longer-term elections for planning events later in the year, and that is the reason why we decided to produce this report for 2019.
In the report we go through each calendar month of 2019, and highlight the single best electional chart we can find for that span of time. We also explain our reasoning behind each chart, and talk about the pros and cons, as well as what each chart would be most ideal for and what types of topics you might want to avoid using it for.
These charts are meant to work in a wide variety of locations, and the basic starting point is to pull up a chart using the date and time we've given, set for your own location, and confirm that it matches what we are describing. Since some things may need to be adjusted for those who live in time zones further from us, we've also given instructions on how to adjust the chart if needed for your location.
This report is a digital download, which includes an audio, video, and written version of the report, so that you can study it in different mediums over the next year.
Promo Video
Here is a promo video where we talk a bit about the report:
–
What You Get
When you purchase the report you receive the following things:
Access to a 1 hour and 47 minute video recording, in which Chris and Leisa talk about the astrology of 2019 and provide an overview of each of the charts they found. This video is available in both a streaming version and an MP4 download. Links to both are provided upon purchasing the report.
A 1 hour and 47 minute audio version of the same recording, in MP3 format.
A printable 18-page PDF write-up, which contains all of our written notes, including the pros and cons of each chart and detailed instructions about the specific time windows involved.
A printable 13-page PDF file containing all of the charts discussed in the report.
Purchasing the Report
The original price of the report was $24.95 at the beginning of the year, but it is now only sale as of July 2019 for $12.95. Just click the blue "buy now" button below in order to purchase it. You will be redirected to PayPal, and then as soon as you are finished paying you will receive an email that will contain a link to download all the files. Please check your spam folder if you do not receive an email with the links immediately. If you run into any problems or have any questions, please email Chris at: astrologue@gmail.com.
Last modified: June 30, 2019